Amulet Powerbrute Hydraulic Backhoe Thumb & Excavator Thumbs are available for any weight class of backhoe and excavator.
Amulet PowerBrute is a solidly built hydraulic thumb for backhoes and excavators. Amulet hydraulic backhoe thumbs feature an independent main pin and universal two-tine design. Therefore, you can make quick and easy bucket changes on your backhoe.
Amulet offers other thumbs:
– Powerclamp Hydraulic Shared-pin style thumbs HERE
– Rigid Thumbs for Backhoes and Excavators HERE
– Full-Motion Hoeclamp mechanical thumb HERE
– Rigid and Hydraulic Thumbs for Case Backhoes HERE
– Mini Excavator Thumbs HERE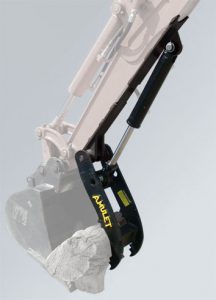 Amulet POWERBRUTE Backhoe Thumb & Excavator Thumb
– Full two-way excavator thumb
– Base plate welds to your boom.
– Independent, heat-treated main pin.
– No stress on your bucket pin. Bucket changes are done quickly.
– Thumb and lugging mounted base plate to weld to your boom
– Wide range of rotation
– T-1 steel construction in all critical components.
– Low profile in Locked Position
– Low maintenance, 2 Year warranty
– 100% USA-made. Built-to-order with reasonable lead time.
– Easy Installation. Shipped pre-assembled. Simply position the base plate on the stick & weld. Therefore, most owner/operators proficient in welding can position and install easily.
The full-length base plate on most backhoe thumbs include a mount stop and remote main hinge pin.
Made with high-strength alloy which maximizes performance and minimizes extra weight to dipper stick.
Open back design offers improved visibility.
Large diameter hardened pins and bushings throughout.
Grease zerks on the main pin and hydraulic cylinder.
Thumb curls independent of the bucket (demolition, rock placement, land clearing, etc).
Store the PowerBrute hydraulically tight against dipper stick
Requires a two-way hydraulic circuit.
Caution: Two hoses up your stick may NOT mean you have two-way hydraulics. A breaker only requires one-way hydraulics. Please check your system.
Hydraulic Diverter Valve Kits available. These kits borrow hydraulic flow from an unused circuit. See more HERE.
"Tip Radius Dimension" is required to assure fit.
Measure the distance from the center of the main bucket pin to the end of the teeth of your bucket. Also, measure to the bucket cutting edge. Measure with the bucket in any position as the distance remains constant.If a Quick Coupler

for changing buckets

you must

check your tip radius. Measure from the center of the main pin where the coupler connects to the stick, to the cutting edge/teeth of the bucket.

Amulet needs this to proceed with your order.
* Specific models vary depending on machine, bucket and quick coupler.
Above models need to be confirmed.
Your backhoe brand and model is required.
In conclusion, Amulet Hydraulic Thumbs are the most versatile and reliable thumb Equipmentland has found.
The entire Amulet product line on Equipmentland
102822