EXCAVATOR AND BACKHOE RAKES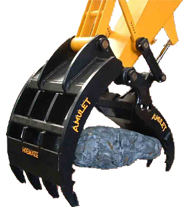 Amulet Rakes – available to fit virtually all machines to 80,000 lbs. Used in conjunction with any Amulet thumb, it's an inexpensive way to create a "grapple" in just minutes without the investment of limited-use, dedicated clam or "orange peel" grapples. In other words, coupled with an Amulet thumb, you will have an open-tine grapple that surpasses all standard grapples in its ability to be controlled.
——
SOLESBEES RAKES
Solesbees Excavator Rakes will allow your excavator to do land clearing, demolition and waste recycling. Easy interchanges with bucket and may also be used with quick couplers. Solesbees Excavator Rakes will work with any existing manual or hydraulic thumb and is available in various widths to fit your application.
Manufacturers