TracksPlus over-tire Steel Skid Steer Tracks
Easily convert your rubber-tired skid steer to a track machine.
With easy 15 minute installation, your rubber-tired skid steer can now operate with skid steer tracks as never before. Sand, heavy mud, whatever. Tracksplus patented process produces a track 30% lighter and about 1/2 the cost of cast or forged metal tracks. Get plus-or-minus 2,000 hours use depending on your application.
Skid Steer Tracks that fit over your skid steer tires. Easy on and off.
Modular simplicity. Replaceable parts: Track, Link and Bolt/LockWasher/Nut. Wheel spacers are available to extend your track outboard if needed. Available for skid steer wheelbases from 35″ to 55″, for nearly any model skid steer. Case, Caterpillar, Daewoo, Gehl, John Deere, Komatsu, Kubota, LiuGong, Mustang, New Holland, Takeuchi, Volvo, Wacker Neuson, etc.
TracksPlus has it engineered. High-quality stampings with 3TPlus heat-treating provide the hardest long-wearing tracks available. Hardness at 48-52 Rockwell "C" – super tough. Tracks are adjustable as there are two holes per link. Tighten up or expand by selecting the link holes for a perfect fit. All linkages are adjustable in 1″ increments. No bushings needed. 5/8″ shoulder bolts hardened to Grade 9 do the trick.
TrackPlus tracks reduce ground pressure by 50% over rubber tires, allowing a wider footprint for better flotation and traction.
Self-Cleaning. Measurement guides for you to help determine the proper model and fit. Made in Columbus WI, USA.  TrackPlus track sets are shipped on pallets.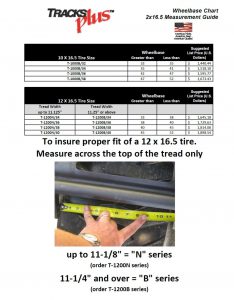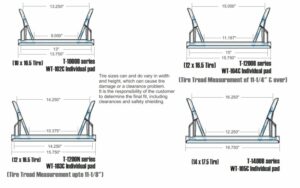 Contact Equipmentland today using our GetQuote or call us. Knowledgeable help and great prices.