Mini Excavator Thumbs – Amulet Rigid and Hydraulic Thumbs
Looking for a mini excavator thumb? You have found the right place. We have affordable, durable thumbs for mini-excavators up to 12,000 lbs.
– Built for demolition, land clearing, brush handling, recycling, and more.
– Independent, heat-treated main pin. No stress on your bucket pin. Therefore, bucket changes can be done quickly.
– Thumb and lugging mounted base plate to weld to your boom.
– Field-Customizable to fit specific bucket lengths.
– Wide range of rotation
– High-Grade T-1 steel construction is used in all critical components.
– Low profile when locked into the storage position
– Low maintenance, 2 Year warranty
– 100% USA made Mini Excavator Thumbs
– Easy Installation. Shipped pre-assembled. Simply position the base plate on the stick & weld. Most owner/operators proficient in welding can position and install easily.
Amulet ST series Rigid, mechanical thumbs for machines less than 6,000 lbs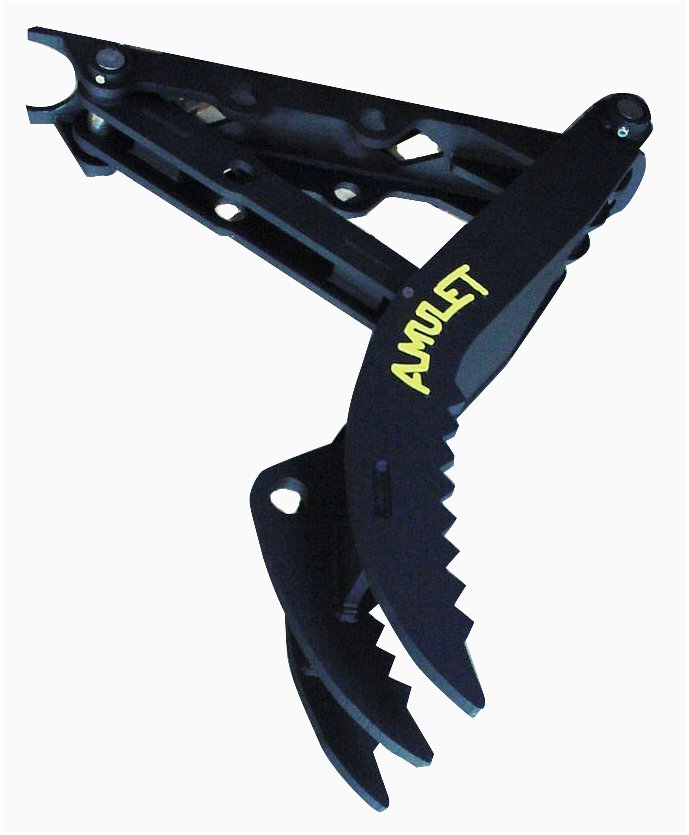 ST01-1 Micro Rigid Thumb for Micro Excavators (Find with photo in the pull-down menu)
ST01-1 BRUT Rigid Mechanical Thumb (60 lbs) measures 7″W x 20″L for pin style buckets.
ST05-1 BRUT Rigid Mechanical Thumb (70 lbs) measures 7″W x 25″L for quick couplers.
– Non-hydraulic thumbs that can be used in fixed positions.
– Does not have the independent control features of hydraulic thumbs.
– Two fixed working positions plus storage position.
– Easily Adjustable all adjustments made by moving a single pin.
– No hydraulic hoses or valves.
– Open back design offers improved visibility.
– Large diameter hardened pins and bushings.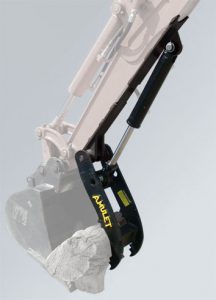 ST01-2 Powerbrute Hydraulic Mechanical Thumb (60 lbs) measures 7″W x 20″L for pin style buckets.
See the product drawing in the photo gallery.
ST05-2 Powerbrute Hydraulic Mechanical Thumb (70 lbs) measures 7″W x 25″L for quick couplers.
– Full two-way Hydraulic Thumb
– Requires a two-way hydraulic circuit. Two hoses may NOT mean you have two-way hydraulics).
– Hydraulic Diverter Valve Kits available.
– All basic features as BRUT but added convenience of a hydraulic cylinder and controls.
– Base plate welds to your boom.
Amulet CT series Thumbs for Mini Excavators 6,000 – 12,000 lbs.

"Tip Radius Dimension" required when ordering:
To assure correct fit your new mini excavator thumb, we need a measurement of the distance from the center of the main bucket pin (not the pin that makes the bucket curl), to the end of the teeth on your bucket (if no teeth, then to cutting edge). This measurement can be done with the bucket in any position as the distance remains constant.
If you are using a Quick Coupler for changing buckets you must check your tip radius. In this case measure from the center of the main pin where the coupler connects to the stick, to the cutting edge/teeth of bucket.
1-3 Ton (2,000-6,000 lb) Machine Models (partial list)
If your carrier is not listed please contact Equipmentland.

Bobcat 316, 320, 322, 324, 325, 328, 418, E26
Bradco 365, 3509, 485, 509, 511, 609, 611
Case CX14, CX17, CX25
Caterpillar 300.9D, 301.4C, 301.5, 301.6, 301.D, 301.DCR, 301.8, 302.5C, 302.2D, 302.4D, 302.7DCR
Coyote CE08*, CE15*, CE25*
Daewoo/Doosan SOLAR 030, 035, DX27
Ditchwitch XT855 Farm Pro ME15*
Gehl 153, 223, 235, 283Z
Hitachi Z17 IHI 12NX, 9VX, 15VX 17VX, 25VX
JCB 1CX, Micro,8008,8018,8025
John Deere 15, 17, 25, 30, 48
Kobelco 15SR, 17SR, SK025
Komatsu PC09, PC15, PC18
Kubota BH75, U15, U17, U25, KX41, L35, KX018, KX008 (and similar)
Mustang 1503, 1902, 1903, 2202, 2203, 2803, 170D, 235
New Holland EC15, E18B, E27B
Takeuchi TB014, TB016, TB108, TB25, TB125
Terex TC16 (HR1.6), TC20 (HR2.0)
Thomas T-15S, T-15V, T-25S
Volvo EC14, EC15, EC20
Wacker Neuson 803, 1404*
Woods 9000
Yanmar Vi017, SV08*, Vi020
* Specific models vary depending on the machine, bucket, and quick coupler.
The above models need to be confirmed.
Include your carrier model brand and type when inquiring/ordering.
FYI we also offer The Amulet Mini Hitch Coupler for Mini Excavators.
This unique coupler that mounts to the end of your stick (not the boom). Thus, this allows you to pick up nearly any skid steer attachment. Check it out HERE.
2022