Rock Pickers, Tow Behind Rock Pickers or
Hydraulic Powered Rock Pickers
Pick rocks from your field with this tow-behind Rock picker. PFM Rock pickers hydraulically process rocks from 1.5 inches to 24″ without the use of your PTO. Hydraulic controls allow you to set the height of the scoop, the speed of the tined wheels, and the swing of the hitch. All hoses, valve and switch box are provided – except hose hookups. Two remotes are required, 12 GPM minimum @ 1500 PSI (2,000 PSI relief is built in). Made and shipped from Iowa from established farm equipment manufacturer. A proven workhorse leading the industry. One year manufacturer's warranty on workmanship and materials.
 

Series 500 Rock Picker Specifications

Model
PFM-500-10
PFM-500-20
Rock Size
1.5 inches to 24 inches
Hopper
Constructed with grated bottom and .25″ steel gusseted back.
Rock Guard
Heavy .5″ thick rubber deflector
Tine Scoop
Specially designed, hard surface contoured tine
Bar Reel
Large Diameter with hard surfaced teeth, protected by heavy duty spring cushion trip action
Swing Hitch
Hydraulic controlled from tractor
Implement Hitch
Category 3 with clevis
Hydraulics Scoop
Two 3×8 Cyl.
Hydraulics Swing Hitch
One 3×8 Cyl.
Reel Drive
Hydraulic motor with cross over relief valve
Tractor Hydraulics
Two remotes required – 12 GPM at 1500 PSI min. with flow control
Weight
3500 lbs
4800 lbs.
Hopper Size
1.25 cu. yard.

2.25 cu. yard

Hydraulics Hopper
One 3.5 x 18″ Cyl.
Two 3.5 x 30″ Cyl.
Tractor HP
50 HP Min.
60 HP Min.
Picking Width
48″

60″

 
---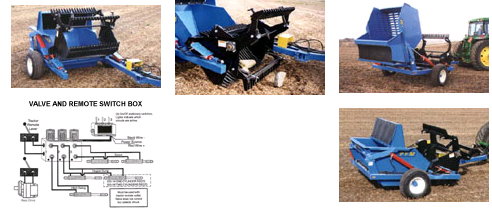 PERFORMANCE:
The rugged PFM Series 500-10 and 500-20 hydraulic powered rock pickers are the simplest, most economical approach to continuous picking machines for stones, rocks, windrows, and boulders. The simple design and straight forward picking action results in a highly reliable machine with minimum maintenance and excellent performance for years to come.
ROCK PICKER DURABILITY:
The rugged double wrap around the frame is all welded and constructed from heavy wall 5″ square tubing. The reel assembly features spring cushion action, individual hard surfaced teeth with heavy wall tube and carbon shafting and pins. The 1 1/4 cubic yard hopper on the 500-10 Rock Picker model and the 2 1/4 cubic yard hopper on the 500-20 model are constructed from 3/16″ and 1/4″ plate, square tube and angle on the grated bottom. The heavy duty pivot bucket hinges provide high strength and hopper stability. These features make the PFM rock picker the strongest and most durable on the market. It is built to stand up to the extra abuse demanded of rock removal equipment.
CONVENIENCE:
Rock removal equipment is essential to modern farming practice. Investment in a PFM rock picker will greatly reduce down time and damage to tillage and harvesting equipment. The simple, highly efficient valve and remote switch box hydraulic system gives the farmer the convenience to control all functions separately without leaving the tractor.
SWING HITCH:
A standard 3×8 hydraulic cylinder positions rock picker for rock alignment or shifts the machine into transport position without the operator leaving the tractor.
IMPLEMENT HITCH:
500-10: Category 1 rated at 930 vertical pounds and 29,866 draft pounds. Clevis is standard with hitch, rated at 7,893 pull pounds and fits 1″ draw pin size.
500-20: Category 3 rated at 4,008 vertical pounds and 56,888 draft pounds. Clevis is standard with hitch, rated at 12,586 pull pounds and fits 1″ draw pin size.
HYDRAULIC REEL DRIVE:
Has several important advantages over PTO drive systems including safety, no vibration, and sharper turning. The rock pickers reel can be reversed for clearing. The hydraulic motor has a built-in cross over relief valve, eliminating shock loads. RPM of reel can be varied by changing the volume of oil without changing tractor ground speed. Hydraulic tractor requirements: 12 GPM @ 1500 PSI with dual hydraulic system.
BAR REEL AND SCOOP ASSEMBLY:
The rock picker features high carbon steel with individual hard-surfaced teeth. The reel is equipped with heavy duty tines and spring cushion trip action. The large diameter reel and longer tines on scoop are positioned to provide easy pick up and more efficient transfer of rock to the bucket. The design and heavy construction will give the user years of continuous and efficient rock picking in tough conditions.
HYDRAULIC CYLINDERS:
The dual system rock picker provides smooth even lift when picking up stubborn rocks or dumping on uneven terrain. Hoses from implement to tractor are included. 500-10: Two are provided on tine scoop (3 x 8) and one on the hopper lift (3 1/2 x 18). 500-20: Two are provided on tine scoop (3 x 8) and two on the hopper lift (3 1/2 x 30).