Rock Pickers, Soil Groomers and Rock Picking Accessories

Rock Picking and Rock Sifting Arena Bucket, variable – Versa Rake
Versa Bucket.
Rock removal equipment for skid-steers. Rock buckets, soil groomers to heavy duty agricultural rock pickers.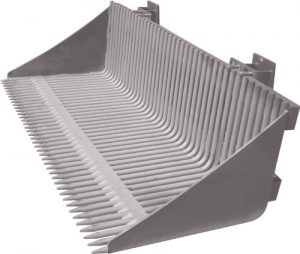 Hello Tractor Owners,
Here is the rock sifting bucket mentioned in the forums. Please see this item titled "Arena Bucket". The item is temporarily out of stock, but we are taking orders. Please use our Contact Us page for us to get back to you to let you know about this program.
In addition to our rock picking equipment listed below, we also offer a line of Spike Tine Buckets at https://www.equipmentland.com/categories/buckets/spike-tine-buckets/.
If you do not see what you want please call us at 1-800-214-1649.
Brands