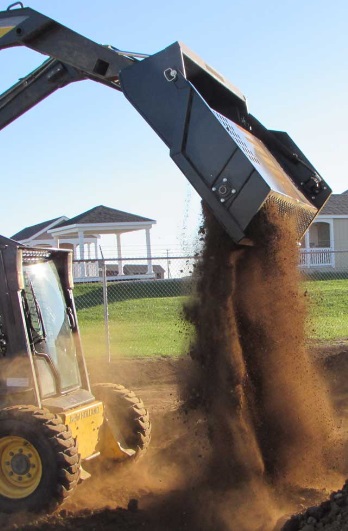 ROCKAWAY – Affordable rock picker grooms for planting.
 Available in 44″, 74″ and 84″ Wide Models, for skid steers
Similar to Rockhound, but available! Models IN STOCK.
(no three-point models)
1/4″ steel shroud withstands constant pounding and abuse. Flame-cut holes permit a view of the working rotor and let fine soil flow-through (see large photo at top for closer detail). You won't dump your bucket often. When you do, you'll dump mostly rocks! One roller chain and two greaseable bearings keep repair and maintenance to an absolute minimum, for a great return on investment. Spirally mounted, carbide-tipped "Hardox" mining teeth are incredibly strong, providing years of trouble-free service. They do all the work, tilling the hardest soil, moving the rocks and debris into your bucket.
Affordable, low maintenance, quality landscaping tool, for virtually any skid-steer loader. Hook-up is a snap. Includes its own bucket.
ROCKAWAY FEATURES & BENEFITS
One rotor, with carbide-tipped mining teeth, does all the work; gives years of productive service.

Spiral-mounted teeth pull material toward the center, helping avoid dirt trails.

Low maintenance – just two greaseable bearings and one chain.

Highly versatile – fits any utility, high-capacity, or low-profile skid-steer bucket 60″ to 83.5″ wide.

Easy to install on your existing loader buckets and easy to remove – just two pins and two hoses.

The same Rockaway can be used on several different buckets. Bucket not included.

When operated forward, it will level off loose soil.

Takes up less trailer space than the competition.

Needs dumping less often than the competition.
ROCKAWAY picks rocks in reverse but is also designed to push small amounts of dirt when moving forward. Low profile makes visibility excellent!
Quickly and efficiently removes rocks and debris from the soil without manual raking.
Easy to install on skid-steer loader buckets and easy to remove – just two pins and two hoses.
Spiral-mounted teeth pull material towards the center to help avoid dirt trails.
Hardox steel teeth pulverize, aerate, level, and condition the soil, while collecting and depositing rock and debris.
Compact design takes up less trailer space than the competition.
Installation and removal are a breeze due to its unique two-pin and two-hose design.
Low maintenance with just two greaseable bearings and one #80 roller chain.
Can be used with several different buckets if buckets are modified.
Built for maximum strength and durability in the toughest soil conditions.
An affordable landscaping tool for virtually any skid-steer loader and tractor.
Super Duty Improvements:
A rubber protection flap now hangs 8" to 10" into the bucket.
The rotor shaft has been enlarged from 1 1/4" in diameter to 1 3/8" diameter with heavier duty, 1 3/8" bearings.
Rotor has been redesigned with a bolted hub for easy service.
Has a larger #80 drive sprockets and chain increased from #60 for added strength and longevity.
A stronger hood design with slotted holes and a solid steel center area was designed to reduce dust and add strength. Plus, hoses are now covered with protective material.
Tube frame has been increased 50% from 1/8" to 3/16" making it heavier for durability.
A 3/8"-thick front push bar has been added to increase strength and provide a wear area when pushing soil forward.
3/16" stainless steel wear runners have been added to the bottom of both sides of the frame.
091523