Couplers and Adaptors for Tractor, Loader, Skid Steer

From 3-Point adapters to quick couplers, Equipmentland offers conversion kits for adapting your tractor or loader to skid steer for nearly every model and carrier. Many companies now produce a universal adapter making attachment fast and easy.

Equipmentland has a variety of high quality adapters including Quick-Tach, MDS, Sur-Lock and more. If you can't find your carrier or loader model and brand listed, just give us a call. We carry nearly every make and model of adapter.
Tractor Loader to Skid Steer Conversion Adapter
This adapter fits onto your Skid-Steer Loader and will fit 3 point attachments (Category 1 & 2 ) This is easy to use and is built compact to maximize lifting capacity.

– Order with a
 window or solid plate with welding holes
– Use with hay spears, blades, scoops, snow blades, etc.
– Adapt your skid steer to accept 3-point attachments
– Works on category 1 and 2

LOADER TO SKID STEER QUICK-TACH ADAPTER
Universal Quick-Tach Adapters
Quick-Tach can be mounted on virtually any lift system
Standard and Heavy Duty and Multi-Hitch Loader Adapters Available
Skid Steer to 3-Point Adapters and Mounts
| | |
| --- | --- |
| | Adapters, mounts, and kits for nearly every loader or carrier make and model. |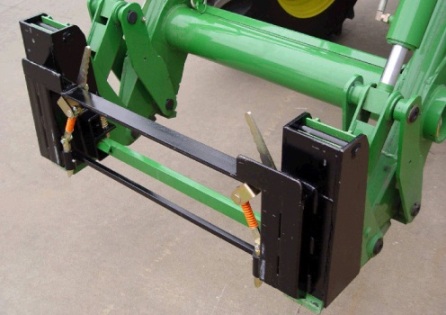 Brands