Hoeclamp Mechanical Thumb, Non-hydraulic, Full-Motion, Pin-On Thumb for CASE Backhoes, standard and extendable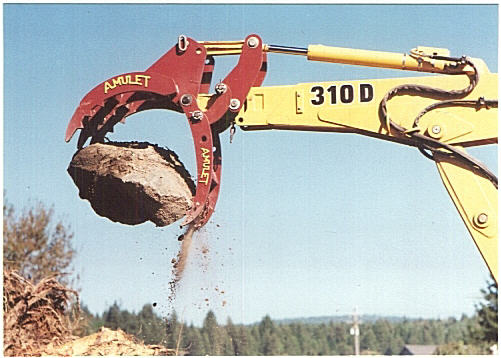 The patented Amulet Hoeclamp mechanical thumb utilizes the main pin of your bucket. Not a rigid thumb, Hoeclamp works in conjunction with your bucket, and is repositionable to accommodate digging when needed, and stores out of the way on the dipper stick when not in use. Hoeclamp opens and closes as you uncurl and curl your bucket. The Hoeclamp is easy to install in less than an hour.
Works on many telescopic sticks. The Hoeclamp is especially handy for backhoes with telescopic sticks – does not effect the extension or retraction.
Hoeclamp pins out-of-the-way for standard digging.
– For digging & grasping
– Heat treated pins
– Installs in under 2 hours
– 1 ¼" thick arms, kidney-link makes operational
– 2 Year warranty
– 100% Made in USA
Full-Motion Thumb. No Hydraulics needed.
– Opens and closes with your bucket curl motion
– Pins out of the way for standard digging mode
– Easy to install in less than an hour.
With the ability to grasp, dig and be stored away when not in use, the Amulet HoeClamp is a must for ultimate backhoe versatility. For construction, rock handling, land clearing, demolition and excavation projects, the HoeClamp cannot be beat for the cost.
The clamping action of the Hoeclamp, offering full clamp movement without requiring any additional hydraulics is achieved through our patented "Kidney Link" design, eliminating the need for additional hoses, valves, and cylinders used in conventional hydraulic clamping devices.
Hoeclamp is quick and easy to install, basically maintenance free. It's easy to place in a stored position when the clamping action is not required, thereby, protecting the dipper from damage. The Hoeclamp includes everything needed for complete installatio. Included are: Clamp, new Main Pin, 2 Kidney Links, new Guide Links and 4 Link Pins. In addition, all milled holes have replaceable tension bushings, with pins made of a heat treated hardened alloy. The Amulet Hoeclamp is heavy duty and built to last. A Hoeclamp will usually pay for itself on the first job. Most jobs currently performed with a bucket alone can be accomplished faster, easier, and cheaper with the Hoeclamp.
Don't see your model listed? More models available. Call Now. Equipmentland is committed to quoting you the best price, processing your order quickly and getting it to you as fast as possible. We "keep in moving" on our end so you can do so with your equipment.