Mechanical (non-hydraulic) Full-Motion Pin-On Thumb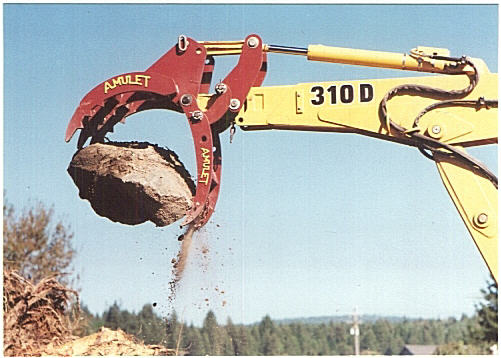 The patented Amulet Hoeclamp mechanical thumb utilizes the main pin of your bucket. Not a rigid thumb, The Hoeclamp works in conjunction with your bucket, and is repositionable to accommodate digging when needed, and stores out of the way on the dipper stick when not in use. Hoeclamp opens and closes as you uncurl and curl your bucket. The Hoeclamp is easy to install in less than an hour. Works on many telescopic sticks, including Ford, New Holland, Komatsu, Caterpillar, Hitachi, John Deere and Case models. – Has Non-operative Storage Position for Digging – simply re-pin the kidney link.
The Hoeclamp is especially handy for backhoes withe telescopic sticks – does not effect the extension or retraction. Especially good on John Deere MD45CW-11, 310, 410, Cand D models, D-Series Cats and Kabota L-35's. There's a Hoeclamp model to fit nearly any specific backhoe, mini or full-size excavator up to 30,000 lbs.
 Starting at $2295
Don't see your model listed? Call Now. Equipmentland is committed to quoting you the best price, processing your order quickly and getting it to you as fast as possible. We "keep in moving" on our end so you can do so with your equipment.

Order online to get $100 off. use 'OrderOnline' as the coupon code.
MACHINE MODEL

MODEL

CASE

 

See Hoeclamps for CASE 580.

 

 

580B, C,D Standard & Extendable

MC58W

580D, E Standard & Extendable

MC58AW

CAT 

See 

Hoeclamps for CAT.

 

 

416 II Std & Ext

MC46AW

416B, C Std & Ext

MC46BW

426, 428, 436 II Std & Ext

MC42AW

426B, 426C, 436B Std & Ext

MC42BW

416D, 420D, 430D Std

MC42CW

416D, 420D, 430D Ext

MC42CXW

416E, 420E, 430E Std. & Ext

MC42EXW

446 Std & Ext

MC44AW

FORD 

See 

Hoeclamps for FORD.

 

 

4500

MF45AW

455, 555, 555B, 655 Std

MF55AW

455, 555, 555B, 655 Digmor Ext

MF55AW

455, 555, 555B, 655 Ext

MF55AXW

555C, D, 655C, D, 575D, 675D Std

MF55CW

555C,D, 655C, D, 575D, 675D Ext

MF55CXW

555E, 655E, 575E, 675E, LB115 Std

MF55EW

555E, 655E, 575E, 675E, LB115 Ext

MF55EXW

JCB 

See 

Hoeclamps for JCB.

 

 

214, 215 (early model),1400,1550,1550B

MJ14BW

214 Std.

MJ24CW

214 Ext (early model)

MJ24AXW

214, 3CX Ext.

MJ24CXW

1700B Std.

MJ14AW

JOHN DEERE 

See 

Hoeclamps for JOHN DEERE.

 

 

310,B, 410, B Std

MD45AW

310, B, 410, B

MD45AXW

500C, 510B, 610B Std

MD45BW

500C, 510B, 610B Ext

MD45BXW

210C, 300D, 9300G Std & Ext

MD21CW

310C, D, 410C, D 9310G Std

MD45CW

310C, D, 410C, D 9310G Ext

MD45CW

500C, 510B, 610B Std, Ext

MD45BW

510C, D, 610C, D Std & Ext

MD51CW

KOMATSU

 

Se

e 

Hoeclamps for KOMATSU.

 

 

WB146/156 Ext.

MK15BXW

NEW HOLLAND

 

See 

Hoeclamps for NEW HOLLAND.

 

LB75, 90, 95, 110, 115, B95.B Std.

MF55EW

LB75, 90, 95, 110, 115, B95.B Ext.

MF55EXW

TEREX 

See 

Hoeclamps for TEREX.

 

 

TX760B, 860B, 960B Std & Ext

MT60CXW