Hydraulic Diverter Kit for Backhoes & Excavators under 20,000 lbs.
The Amulet Hydraulic Diverter Kit allows you to install a two-way hydraulic circuit up the dipper stick of a backhoe or excavator if your hydraulic system doesn't provide a circuit.
Install this electrically controlled valve in an appropriate location, tapping into a hydraulic circuit that isn't used (such as the circuit that operates the stabilizers) when operating a thumb. You will install the rocker switch in the cab. With a flick of the switch, your joystick for your stabilizer will now control the thumb, simply switch back as needed.
This hydraulic diverter kit was designed to work with all Amulet hydraulic thumbs, will work with many other thumbs or hydraulic attachments of similar hydraulic flow rate and pressure.
For diverting existing two-way flow from machine extendable stick, stabilizers, offset boom, or front blade (mini-excavator) to hydraulic thumb option. Most two-way existing machine functions will work. For most machines under 20,000 lbs.
The Cylinder Protection Manifold is included. See diagram. It is simply a relief valve that is where you dial in your pressure for your thumb. You set the thumb circuit pressure to 80-85% of your bucket curl circuit so that the bucket can overpower the thumb, not vice versa. You can install a pressure gauge (not included but inexpensive) on your stick where the hard lines connect to your cylinder hoses.
NOTE: THE VALVE IS CURRENTLY AVAILABLE IN 12V VERSION ONLY.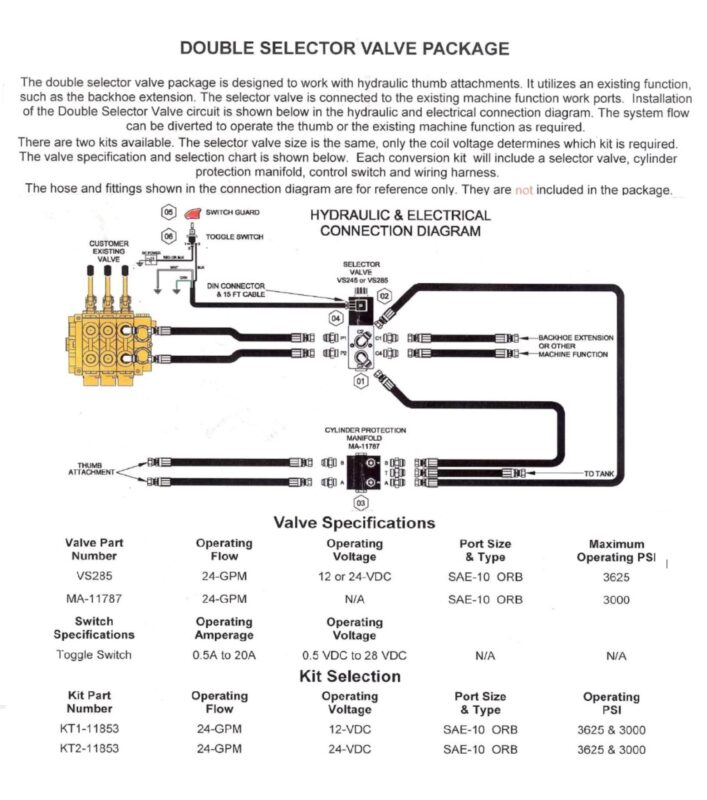 | | | | |
| --- | --- | --- | --- |
| | | VS285 | |
| Max PSI Int. Drain | | 3625 PSI | |
| Max PSI Ext. Drain | | 4350 PSI | |
| Max Flow | | 24 GPM | |
| Ports | | #10 ORB | |
| | | | |
Includes:
– 12V  DC Control Switch (24V Not available.)
– Rocker Control Switch provided.
– 24 GPM VS285 Valve
– Double Selector
– Relief Block
– APV315C1 Adjustable Cylinder-Protection valve
– Control handle with wire harness
– Can be installed with rubber hoses
– Hoses and Fittings NOT included