TM48 Post Hole Digger from Belltec -2022
TM48 Post Hole Digger is a Hydraulic 3-Point Tractor Mounted Auger Drive with down pressure, capable of drilling through solid rock. Best Prices. TM48 Post Hole Digger mounts easily on three-point tractors with over 28 horsepower.
Convert your 3-point tractor to a hole drilling machine.
Recommended for 50 HP (29 hp minimum) tractors and up.
Two models. One for flat ground, one that levels
Drills holes to 60″, even solid rock.
Hoses and fittings to attach to tractor remote outlets
Two models
TM48 HTLC1-C3  Standard Digger for flat ground
TM48 HTL-GRS  Model includes leveling cylinders. When digging on a slope, back up the tractor to the hole from the downhill side and level the Digger to vertical.
Belltec Industries TM48 Post Hole Digger mounts easily on three-point tractors with over 28 horsepower which have at least two hydraulic remote valves. The machine's design and performance go way beyond other tractor-mounted post-hole diggers.
The unique system transforms a three-point tractor into a drilling machine capable of doing what the big truck rigs do: drill accurate, straight holes (to a depth of 5 ft on a single auger) in almost any drilling condition including solid rock and concrete.
– Recommended for 50 HP (29hp minimum) tractors
– One valve for twin cylinders creating down pressure
– Second valve for leveling fore an aft by hydraulics
– Third valve for even additional leveling
– Drills holes to 60″, even solid rock with correct auger (Order AUGERS HERE)
– Rigid frame w/ hydraulic down pressure w/ relief valve.
– Heavy Duty Drive Line automatic release if overloaded.
– Hoses and fittings to attach to tractor remote outlets
– Hose quick couplers furnished
– Adjustable Skids
– Uses Belltec 2″ Hex-drive, Extensions and Couplers
– Weight: 1,100 lbs. plus auger/s
– Made by Belltec.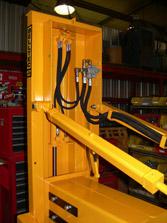 Frame-Guided Auger System
On the HTL-GRS model, Twin hydraulic cylinders connect the auger carriage to the mainframe of the machine. The cylinders move the carriage up and down the mainframe slides. Adjustable feet on the mainframe may be leveled. Since the auger is guided into the ground by the mainframe, as long as the mainframe is straight and the carriage is level, the machine will drill straight holes.
The hydraulic cylinders are directly connected to the Gear Drive-Auger Carriage without any leverage or linkage. This gives much better control over the auger in rocks, roots or soft ground. If the cylinders are moved 1″, so is the auger. Movement is not multiplied by leverage or slack in linkage. The operator is much less likely to corkscrew the auger through a root or in soft ground.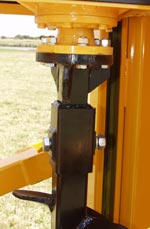 Gear Drive
The TM48 Post Hole Digger auger is powered by a heavy-duty gearbox. The gearbox is protected by an automatic torque limiter within the P.T.O. shaft which instantly relieves torque when overloaded and automatically resets itself as soon as P.T.O. speed is reduced. This eliminates troublesome shear pins and downtime because of broken P.T.O. shafts and cross kits.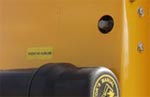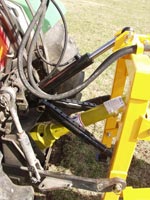 Adjustable Relief Valve
Allows you to adjust down pressure to the weight of the tractor's down pressure
Utilizing the tractor's weight through these unique Locking Arms, apply up to 4500 lbs down-pressure can be supplied by opposing twin hydraulic cylinders. This eliminates the need for anyone to "ride" the machine risking injury. Down pressure also helps keep teeth sharp.
All Belltec drives are available individually or as a Kit with a skid steer mount, hoses and couplers. Here's where to find all the Belltec Drive Mounts.
Here is the entire Belltec Drive lineup you can link to:
Belltec LC Series Auger Drives 15-35 gpm 3000psi. Economy model, for occasional or light-duty use.
Belltec M Series Auger Drives 10-35 gpm 3500psi. Same as H Series but no shear flange.
Belltec H Series Auger Drives 10-35 gpm 3500psi. Same as M Series but with Shear Flange
Belltec HTLS SeriesAuger Drives 6-30 gpm 3500psi. Extreme Duty
Belltec TM48 Auger Drives for 3-Point Tractors
022322