General  332H Two Man Post Hole Digger
The General M332H Two Man Post Hole Digger replaces the M330H. The 332H EPICTM Series hand-held Hole Digger is designed to tackle a wide range of construction related hole digging projects…from simple backyard fencing to complex landscaping and soil sampling. Each is built with a time-proven transmission that includes oversized bearings, heat treated shafts and precision, machine-cut gears that has created an industry wide reputation for delivering long service life and exceptional ROI. All with the power and performance to dig up to 18 inch (457 mm) diameter holes in a wide variety of soil classifications. When an auger becomes stuck use the convenient Auger-LOKTM to remove it. The exclusive Power-FLEXTM ergonomically engineered composite operator handles maximize control, strength and balance while helping to dampen vibrations. The effects of kickback and fatigue are reduced while increasing overall digging comfort, productivity and jobsite safety. For use with the 4400 Series earth augers and 5500 Series auger extensions.
M332H Two Man Post Hole Digger Power and Digging Performance
FEATURES
• Power-FLEXTM operator handles
• Auger-LOKTM for stuck auger removal
• Honda® GXV160 engine
• All metal centrifugal clutch
• Precision, spur gear transmission
• 1-3/8 inch hexagon auger drive
connection
• Magura® twist grip throttle control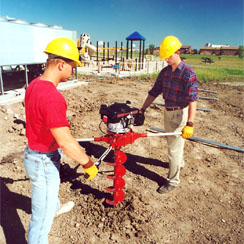 Engine: 5.5 HP (4.1 Kw) Honda GXV160, 4-stroke
Starter: Hand rewind
Fuel: Gasoline, unleaded, automotive grade
Transmission: Totally enclosed, spur gear, oil lubricated
Maximum Digging Torque: 190 ft lbs (225 N.m)
Nominal Auger Rotation Speed: 144 RPM, no load
Auger Drive Connection: 1-3/8 inch (35 mm) hexagon
Available Auger Diameter: Range 2 inch (51 mm) to 18 inch (457 mm)
Standard Auger Digging Length: 36 inch (914 mm)
Available Auger Extensions:
15 inch (381 mm), plain-tube type.
36 inch (914 mm), continuous flighted.
Weight :(less auger) 71 lbs (32 kg)
The General M332H Two Man Post Hole Digger uses General 4400 Series Earth Augers (click here)
Full length auger flighting and Pengo® CSA type boring head with hardfaced teeth.
More literature (PDF file) on the 4400 Series M330H Augers
here
.
20200409-M