General Equipment Company 330H Two-Man Hole Digger
Power and Digging Performance
Designed for the rental industry, the exclusive, patented transmission design features all-metal centrifugal clutches, oil-cooled for longer service life. Clutches are designed to slip on overload or sudden contact with buried obstructions. Spur gears are precision machine-cut and deliver unequaled torque and horsepower to the auger. The innovative Comfort-Flex® operator handles actually flex under load to help absorb vibration and stress. This dramatically reduces operator fatigue, resulting in increased productivity and jobsite safety. Constructed from high-strength composites, the handles are highly resistant to ultraviolet light and external damage.
Engine
– Honda GXV140, 4-cycle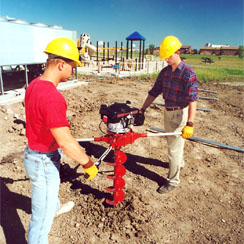 – 5 HP @ 3600 RPM
– Lo Tone type muffler
– Hand rewinding starter
– Fueled with gasoline, regular or unleaded grade
– Resistor type spark plug
– Weight: 71 lbs.
Transmission
– Totally-enclosed, oil-lubricated, spur gear reduction
– Nominal auger rotation speed at rated engine speed is 144
– The auger rotation direction is right hand (clockwise) into the ground
– All-metal, oil-cooled automatic-centrifugal clutch, slips on overload
– Driveshaft connection to auger is 1 3/8″ hexagon
– Heavy-duty, spring-return, Magura® twist grip type
– Driveshaft connection to auger is 1 3/8″ hexagon,
– Uses 2″ up to 18″ diameter augers
Uses General 4400 Series Earth Augers (click here)
Full length auger flighting and Pengo® CSA type boring head with hardfaced teeth.