TEREX AL5-12KW Tier4 LIGHT TOWER
with 12KW Generator & Cold Weather Package
Equipmentland offers the Terex AL5-12-CW, a popular light tower for construction sites, oilfield operations, roadwork and more where more-than-normal lighting is needed. Our standard units include an 8 KW Generator and a cold weather package. The model we chose is the most popular in oilfields by oil service companies for rentals. Also used most anywhere reliable bright lighting is needed for safety and general illumination. Available individually or in fleet quantities and pricing.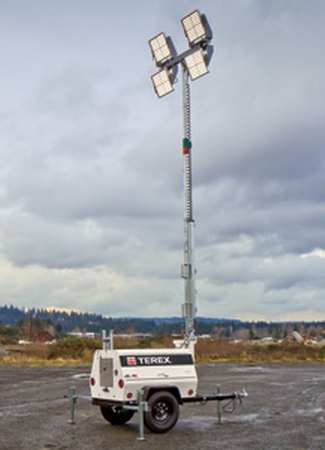 shown at left with LED Option
TEREX AL5 Tier-4 LIGHT TOWER w 12KW Generator
– Engine; Kubota diesel 16.3 HP, Tier 4, US only
– 12 KW Generator: Brushless 60 Hz., 15, 20 KW options
– Lamps; Metal Halide 4 x 1,000
– One GFI Duplex 20A/120V, One T/L 30A/240V
– 700 Amp Battery w blanket, Block heater, -40 Coolant
– Fuel capacity 30 gal.; 60 gal, spill containment option
– Wheel size; 15 in.; Axle rating; 3,500 lbs
– Total weight; no fuel 2,230 lbs (1,016 kg)
– DOT Approved. Run, stop, turn lights (4, 6, or 7 pole plug)
– Cold Weather Package Included: 700 CCA Battery, battery blanket, engine block heater, and low temperature coolant mixture (-40 deg.F)
– Other Features
– Four 1,000 Watt Metal Halide lights
– Kubota 13.6 Hp Diesel Engine
– 12KW / 60Hz Generator: Quiet 71 dBA at 23 feet, fuel efficient 60 hour run time.
– 30' fully Galvanized Mast; single self-braking winch, 359 degree rotation
– Retractable Mast cable gives excellent illumination at long distances.
– Standard Engine Protection: High-water temperature and Low-oil auto shutdown.
– Quick Disconnect lights and ballasts for easy service
– Rough-Road Capable: Heavy duty mast, chassis, and 3,500 lbs rated axle
– Tongue weight; travel position 147 lbs (67 kg)
– Other Options Include: Extra Capacity Tank, Spill Containment, Six Lights, LED, Engine/Generator choices, Extra receptacles, Spare Wheel/Tire, Brakes, Auto Air Shutdown, Fuel/Water Separator, Fuel Line Heaters, Electric Winch, and more.
Terex® light towers are durable, cost-effective solutions for worksite lighting. Their 30 ft (9.14 m) extended-height floodlight towers provide 4,000 watts of light, and 359º non-continuous tower rotation permits pinpoint positioning of the light. Designed to help you get the job done on time and on budget, these models offer the right combination of capabilities and value. The AL5 light tower has a single tower winch system with an ergonomically positioned handle for easy raising and lowering. The winch drum is located inside the cabinet for protection from debris. Durable galvanized mast and outriggers are designed to resist rust and withstand the rigors of use. An industry-proven heavy-duty Kubota® engine is standard. Terex light towers features a robust axle and frame, and 15 in. (38 cm) tires.
Custom Orders: If you are interested in ordering light towers and would like customization, contact Equipmentland today.