Trojan Rubber Tracks for ASV/Cat and Terex
Track Size 450x86x55 18in Wide
Fits Bobcat T250/T300 rubber track
– Anti-Vibration Track, Turf Friendly
– Comfortable ride yet Relatively Durable
– Less Internal Track Stretching and broken lugs
– Fit Guaranteed by Manufacturer
– Resistant Rubber Compounds
– Warranty
– 558 lbs
Rubber tracks manufactured using "Continuous Steel Cord" technology. This provides a much stronger track core than overlapping cords. Drop-forged steel inserts, dipped in a special bonding adhesive instead of brushing on the adhesive. You get a much more consistent bond. The rubber compound is formulated to have high resistance to cutting and tearing. A high quality rubber track that delivers VALUE!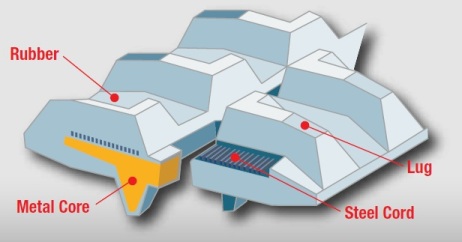 | | |
| --- | --- |
| Weight | 558 lbs |
| Shipping | 265 |
Shipping Information
Weight: 558 lbs
Dimensions: Please contact us by phone or click Get Quote for shipping.
Shipping Price: $265 (Per Item)
Shipping costs vary by product. If a fixed price is indicated it will be your cost. In some cases "plus shipping" may be indicated; in that case you can complete your order but your credit card will not be charged until your shipping is quoted to you and you approve. Feel free to use our "GetQuote" button to submit for a complete quote before purchase. You can also provide payment information securely to our sales staff by phone. For more information on Equipmentland shipping visit this page.