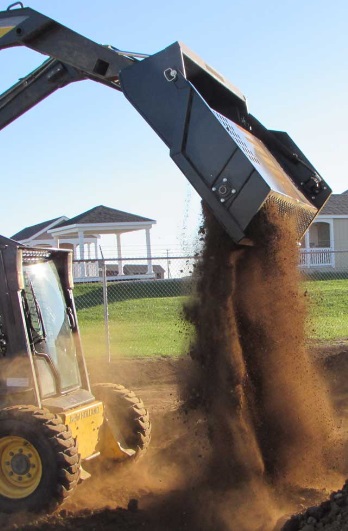 ROCKAWAY – The affordable rock picker grooms landcape for planting.
Also available in 74″ Wide Model
Heavy-duty, 1/4″ steel shroud withstands constant pounding and abuse. Flame-cut holes permit a view of the working rotor, and let fine soil flow through (see large photo at top for closer detail).
You won't dump your bucket often. When you do, you'll dump mostly rocks!
One roller chain and two greasable bearings keep repair and maintenance to an absolute minimum, for a great return on investment.
Spirally mounted, carbide-tipped mining teeth are incredibly strong, providing years of trouble-free service. They do all the work, tilling the hardest soil, moving the rocks and debris into your bucket.
Affordable, low maintenance, quality landscaping tool, for virtually any skid-steer loader. Hook-up is a snap. Two high-strength pins attach it to your existing bucket.
ROCKAWAY FEATURES & BENEFITS
One rotor, with carbide-tipped mining teeth, does all the work; gives years of productive service.

Spiral-mounted teeth pull material toward the center, helping avoid dirt trails.

Low maintenance – just two greasable bearings and one chain.

Highly versatile – fits any utility, high-capacity, or low-profile skid-steer bucket 60″ to 83.5″ wide.

Easy to install on your existing loader buckets and easy to remove – just two pins and two hoses.

The same Rockaway can be used on several different buckets. Bucket not included.

When operated forward, it will level off loose soil.

Takes up less trailer space than the competition.

Needs dumping less often than the competition.
ROCKAWAY picks rocks in reverse, but is also designed to push small amounts of dirt when moving forward. Low profile makes visibility excellent.