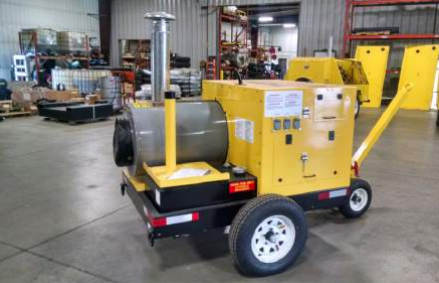 Indirect Fired Self Contained Diesel Emergency Heater Generator Trailer ​TD500-IDF-HS
When you need an emergency heater, the Therm Dynamics TD500-IDF may fit your need.
FEATURES
– Therm Dynamics quality – the leader in safe heating equipment
– Indirect fired means exhaust gases are not delivered with the useable air
– Whisper Quiet shore power  diesel furnace operating with a 115 V / 25 AMP service
– Easy access to all maintenance components and minimal operation supervision.
– Low humidity, high CFM for drying. Reduces relative humidity.
– Programmable CO Detection. Clean, uncontaminated air output improves working environment.
– No carbon monoxide poisoning risk.
– Heating for aircraft cabins, fluid lines and luggage bays.
– Preheat aircraft engines and ice removal on jet turbine blades.
– Heating for remote, "off gate" aircraft, ground support equipment and facilities
– Aircraft deicing.
– Portable maintenance station with heat and a generator to run tools, lights
– Hanger heating while servicing aircraft and other GSE equipment.
– Moisture drying and ice melting of luggage bays, maintenance facilities and ground equipment.
– Max BTU Output: 500,000; Efficiency: 81%+
– CFM: 3,500+; Static Pressure: 2.3 pounds
– Exit Temperature: 290 degrees F
– Max Fuel Consumption: 4.5 GPH
– Fuel Capacity: 35 Gallons / 8 hr. run time
– Generator: Kohler KD 420 9.5HP Diesel / Gillette EDTD 60E 6,000W
– 6.0KW max, 5.0KW Continuous; 120/240 Volt
– IDF Heater: 1.5HP Electric Fan Motor; 115V / 25 AMP
– Certified: to CSA/UL standards
– Dimensions: 54″H x 69″W x 98″L
– Weight empty: 1,300 lbs. approx
Applications
Ideal for applications where portable heat and a generator are needed to maintain aircraft on the ramp or in the hanger. This is indirect-fired (not flameless) but safe when adequate setbacks are utilized. This heater is portable and simple to operate. All parts have easy access for quick service and routine maintenance. Therm Dynamics TD heaters meet OSHA standards and have CSA or ETL approval, with a design to withstand the toughest climate and weather conditions. Used for extreme conditions in Canada, Alaska and northern states.​
Equipmentland is the original and primary online provider of flameless heaters by Therm Dynamics. Equipmentland has been instrumental in the development of the largest output models for Therm Dynamics. Contact Equipmentland today for purchasing standard equipment flameless heaters, or let us know if you need a custom unit designed. Equipmentland is the leading exporter of flameless heaters, and is accustomed to arranging deliveries outside the USA.
EQUIPMENTLAND is an authorized dealer for US, Canada, and Export
Contact Equipmentland for more information, delivery times and pricing.