TD1200 Flameless Heaters, now replaced with

TD1000

.
---
Flameless heaters have now gone to Tier IV final (DEF for models above 600K BTU).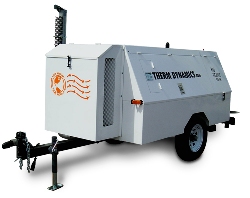 Therm Dynamics manufactures flameless, sparkless diesel rig heaters – the safest heat available for volatile situations. The standard by which all oil rig heaters are judged. No OSHA type setbacks are required as there are no open flames nor sparks. No generator or other electrical power is necessary. A diesel engine is enclosed in an insulated chamber. Engine torque is converted to heat and combined with the heat of the engine. Totally self contained, these patent-protected oil rig heaters are also popular for other applications requiring heated air and high air flows. These units are also applicable for fire restoration, thermal remediation, pest control and any application where self-powered heat is needed. Available in skid mount. Trailer mounted units are equippped with lights for safe highway towability.
For Therm Dynamics Flameless Heaters: General Information or Warranty.
For information about Therm Dynamics heaters for Ground Thawing.
Equipmentland is an authorized dealer for Therm Dynamics Flameless Heaters. We ship to any US state, Canada, and world-wide export. Equipmentland is the primary Therm Dynamics dealer.
Contact Jeff Dayne at Equipmentland today for more information. Call 1-800-214-1649 or use our handy contact us form.