The easiest way to re-fuel on the job site. Portable fuel tanks for construction, landscaping, and logging.
Portable fuel tanks for fueling airplanes, helicopters, boats is with towable gas fuel tanks. Portable fuel for Fleet vehicles, farming, hunting, camping, snow equipment, rescue and disaster relief.
DOT Compliant fuel tanks built in the USA.
Gas Trailer fuel tanks have been granted a Special Permit from the Department of Transportation (DOT) allowing the user to refuel their vehicles, equipment, or machinery without having to remove the fuel tank from the transporting vehicle.
The Special Permit also authorizes the manufacture, mark, and selling of these refueling tanks to store and dispense gasoline, diesel, methanol, aviation fuel, and kerosene up to 119 gallons in capacity.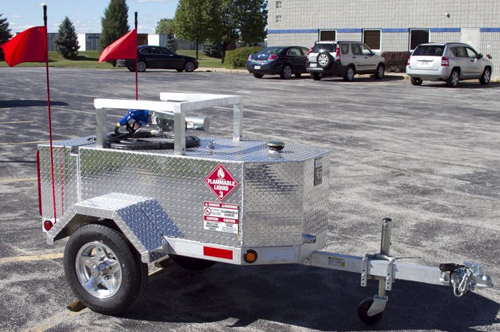 – DOT-compliant Aluminum Fueling Tanks -110, 330, 400 gallon
– Individual Tanks <119 gal.: No HAZMAT license required for highway use
– Skid mounted, use forklift
– Fuels Gasoline, Diesel, Jet A, Kerosene, oils to 30W, (AV-Gas available)
– CURRENT delivery 8 weeks.
$

3,100.00 –

$

27,025.00