Swing Hoe Trench Digger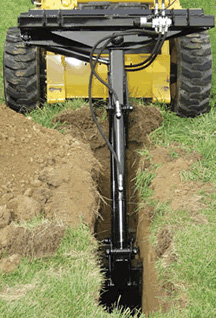 The Swing Hoe Trench Digger features strong, hydraulically-controlled boom swings that swing a full 110 degrees. This allows operators to dump and pick up material on either side of the trench without maneuvering the skid-steer from side to side as is required with rigid, mini-backhoe attachments. That means minimal turf scuffing.
The Swing Hoe™ Trench Digger has two important advantages over more expensive, self-contained skid-steer backhoe attachments. You never have to leave the operator's seat of the skid-steer, and its well-engineered design makes side stabilizers unnecessary. Simple, efficient constructions gives you the best of both worlds, saving time and money. Hydraulics are directly connected to the skid steer controls for low maintenance, and versatility like never before.
You have the power to dig deep trenches, reach high and reposition easily, all from the comfortable operator's position. Swing Hoe™ digs down 6 feet, making it ideal for most landscaping or light construction trenching. Buckets available in 12″, 15″ and 20″ widths suit a variety of digging needs.
SWING HOE TRENCHER SPECIFICATIONS:
Minimum Overall Length
(with curled bucket)
80″ (203.2 cm)
Minimum Overall Length
(without bucket)
70″ (177.8 cm)
Minimum Overall Height
22″ (55.9 cm)
Width of Attachment Frame
50″ (127 cm)
Weight (with 12″ bucket)
567 lbs. (257.2 kg)
Hydraulic Flow Range
10 to 30 GPM (38 to 114 LPM)
You may need to contact your skid-steer loader manufacturer for recommendations regarding a relief valve, which may be needed to avoid damage to bucket cylinder rods when using backhoe attachments
 
 
 SwingHoe Backhoe attachment, Less bucket
 $3,634 + 375 s/h
 
 
 
 Extra Wire Harness for SwingHoe
 $72 + 30 s/h
 
 
 
 12″ Backhoe Bucket with Teeth    
 $630+ 230 s/
 
 
 
 15″ Backhoe Bucket with Teeth   
 $677 + 240 s/h
 
 
 
 18″ Backhoe Bucket with Teeth    
 $735 + 250 s/h
 
 
 
 
 
 
 
12″, 15″ and 18″ Backhoe Buckets with Teeth