Rigid and Hydraulic Thumbs for Backhoes and Mini Excavators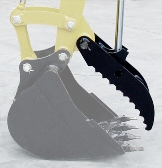 Custom, built-to-order thumbs for backhoes and mini excavators. Major manufacturer-built top-quality thumbs to your requirements. Photo shows typical thumb, available either as rigid or hydraulic versions, universal (has own main pin) on a weldable base plate, or pin-mounted.
When ordering please provide in the comments box: Type of stick, Quick Coupler Y or N, Bucket Width, No. of Teeth, Tip Radius: distance from center of stick pin to end of bucket teeth, and type wanted either stick-mounted (weld-on plate with own main pin), or pin-mounted.
How to Select the Right Thumb for your Mini-Excavator:
1. Measure your machine to order a thumb long enough to not get stuck inside your bucket.
2. Clamp Radius: Must be LONGER than distance from center of your main bucket pin to lip of bucket.
3. Mount Length: Unrestricted clear area on the underside of your stick from the end toward the cab.
4. Base Width: You will weld onto underside of your stick.
Hoses for hydraulic units not included. Contact Equipmentland at 1-800-214-1649 for assistance.
Brands