for Mini Skid Steer Loaders and Compact Three Point Tractors.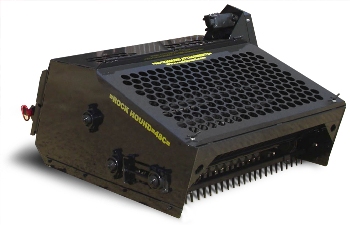 The RockHound Landscape Rake is designed to remove small to medium rocks and debris with ease, placing them at the edge of the jobsite for fast removal. This is the rake only version of the original RockHound landscape rake. This new very versatile RockHound Landscape Rake has been improved to mount on a small tractors 3 point, mini skid steer or any compact loader configuration.
– Working Width: 48″ (121.9 cm)
– Overall Width 53″ (134.6 cm) 53″ (134.6 cm)
– Number of Tooth Bars 10 10
– Number of Teeth (total) 250 250
– 6-13 GPM Minimum Hydraulics
– Rake Only
– Rakes rocks down to 3/4″ (19mm).
– Fast efficient light weight rake.
– 3 Point Hitch option available
– Replaceable redesigned tooth bars
– Rake bars provide better, longer ground contact.
– High strength teeth for the longest life.
– Adjustable side skids provide accurate depth control.
Brands