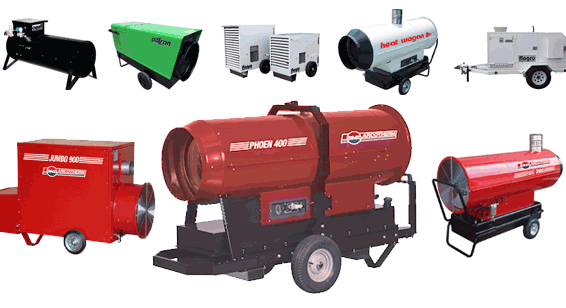 Heaters for General Warming,
Water Remediation and Mold Abatement

Air movement helps for drying but adding heat really speeds up the process. We have a full line of small-to-large heaters that have high volume of air capacities. Compare the specifications and order the heater with the highest volume (CFM=Cubic Feet per Minute) and BTU's (amount of heat). Select indirect-fired units for ducting breatheable air into areas, direct-fired units where economy is needed and fumes are not an issue. Contact Equipmentland for immediate help.
| | |
| --- | --- |
| | Direct and Indirect Fired Heaters for many applications including construction sites, water remediation, mold abatement, prevent water damage. Equipmentland favorite for Indirect Fired heaters. Cantherm provides excellent product availability, a full line of accessories, quick shipping, excellent technical service. |
For really big jobs (up to 1.2 million BTU)
use a diesel engine

flameless heater.
| | |
| --- | --- |
| | TD500 Flameless, Sparkless Diesel Heater for water remediation, water damage due to flood or accident, mold and mildew abatement, and for safe flameless heat in volatile environments such as oil wells. Heaters by Therm Dynamics. In stock and ready to ship! |
| | |
| --- | --- |
| | Patron heaters set the standard for heavy-duty portable heat in configured for nearly every fuel source. Built for prolonged use in challenging situations. Perfect for construction sites, industrial and agriculture, flood and water damage and remediation and most commercial uses. |
| | |
| --- | --- |
| | Heavy duty heaters for construction, interior warming, construction, agriculture and industrial use. Many models and fuel options from portable to towable heaters. Excellent Service from US and Canadian Distribution. |
| | |
| --- | --- |
| | Made from Italy. Popular with the US Military. Ready supply from Equipmentland and their leading US Distributor. |
!!! IN STOCK !!!  

OK TO ORDER NOW. 
Shipping extra. OK to order online without shipping.
– 30,700 BTU/HR – Electric Heater
– A 240V unit requires 40Amp circuit, runs on 25A
– Plug into a dryer or stove outlet
– 9kW / 240V – 30,700 Btu/Hr
– Cord: 10 ft / Plug type: NEMA 14-50P
– UL Approved, 39 lbs.
$

656.00
Brands