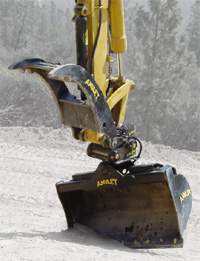 The Amulet Tilt Bucket is a full-featured hydraulically tilting bucket for backhoes and excavators. The Amulet Tilt bucket or Ditching Bucket is a both a grading and a shaping tool. Optional abrasion-resistant side cutters and a heavy-duty cutting edge increase bucket rigidity, durability and wear. Induction-hardened pivot pins mounted through large bushed surfaces maximize wearability. Amulet's tilt bucket tilts 45 degrees each way and has heavy duty, double-acting hydraulic cylinders. Replaceable bolt-on edges are available for all Amulet Tilt Bucket models.
– For Backhoes from 2,000 lb. to Excavators 100,000 lb.
– Bucket for V-Ditching and Sloping.
– Bucket tilts 45 degrees each way.
– Full 90 degree range of tilt.
– Standard side taper for bucket clearance.
– Heavy duty double-acting hydraulic cylinders.
– Twin cylinders come complete with bucket hose kit.
– Wear strips fitted as standard features.
Include your carrier model brand and type when inquiring/ordering.
Brands