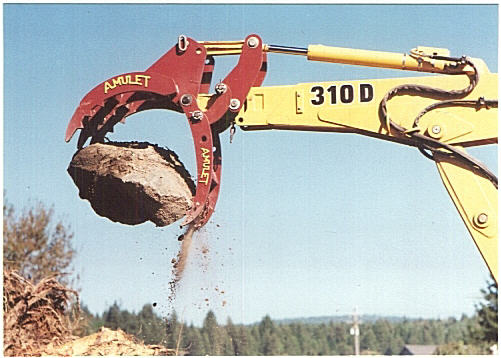 Amulet HOECLAMP
Mechanical (non-hydraulic) Full-Motion Pin-On thumb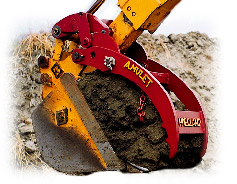 Hoeclamp opens and closes as you curl and uncurl the bucket on a backhoe or excavator. Hoeclamp fits most models of loader backhoes and small excavators, including those with extendable dipper sticks, where you normally can't mount a hydraulic thumb. No hydraulics needed. Simple to operate. Easily disengaged for digging. Quick, easy installation – no welding.
Amulet Hoeclamp is a patented mechanical (non-hydraulic) full-motion thumb that utilizes the main pin of your bucket. The Hoeclamp thumb is not rigid, it works in conjunction with your bucket, and is repositionable to accommodate digging when needed. It stores out of the way on the dipper stick.
Installs in about an hour. Works on many telescopic sticks, such as Ford New Holland, Komatsu, and older John Deere and Case models. Cat 420D models in stock, over 1100 models.
Especially good on John Deere MD45CW-11, 310, 410, Cand D models, D-Series Cats and Kabota L-35's. A step up from a rigid thumb in cost, but incredibly more versatile – yet still relatively inexpensive. A Hoeclamp model will fit your specific backhoe, mini or full-size excavator up to 30,000 lbs.
The clamping action of the hoeclamp, offering full clamp movement without requiring any additional hydraulics is achieved through a proprietary patented "Kidney Link" design. This eliminates the need for additional hoses, valves, and cylinders used in conventional hydraulic clamping devices. Hoeclamp is quick and easy to install, basically maintenance free, and is easy to place in a stored position when the clamping action is not required, thereby, protecting the dipper from damage. Hoeclamp includes everything needed for complete installation: clamp. new main pin, 2 kidney links, new guide links and 4 link pins. In addition, all milled holes have replaceable tension bushings, with pins made of a heat-treated hardened alloy.